Memberships can be cancelled at any time. To cancel, go to
My Account
and click the 'Cancel Premium Package Membership' link. Alternatively, you can cancel your membership by contacting Customer Service by phone at (800) 366-1956 or by email from the
Contact Us
page.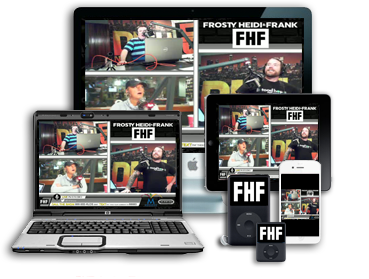 Unlimited Access
Get unlimited access to all of The Heidi and Frank Show, including exclusive content, the entire HF library (audio and video), special pre-sale offers and discounts, and much more. Enjoy every episode of The Heidi and Frank Show in its entirety, and only available with your premium membership.
Wherever You Go
Take advantage of The Heidi and Frank Show on the go, anywhere, with access on your computer, tablets, and mobile devices.

See What Others Are Saying

April 18, 2014
By: Brandy (CHANDLER, AZ)
Best show I've ever heard. Loyal listener since 2007 back when they were known as FHF

April 14, 2012
By: thomas m. (WHITTIER, CA)
THESE 2 ARE THE BEST ON RADIO AND ON THE INTERNET . 14 YEARS LOYAL FAN OF THE TRIPLETS SHOW. EVERY SHOW IS AN ADVENTURE , YOU WILL NEVER GUESS WHATS GOING TO HAPPEN .... GREAT DEAL ON THE ANNUAL SUBSCRIPTION .

December 23, 2011
By: David M. (YUMA, AZ)
The best radio ever. And you can watch it.

December 12, 2011
By: juan e. (LOS ANGELES, CA)
didnt know it was an automatic charge every month...ohh well thats what i get for smoking and not reading. VIP FOR LIFE!!!!!

October 03, 2011
By: Karla (NORTHRIDGE, CA)
LOVE THIS GUYS!!! MY WORK DAYS GOES SO MUCH FASTER THANKS TO HF

September 21, 2011
By: daryl s. (FAYETTEVILLE, AR)
Easily one of the best podcasts out there. I would gladly pay double the price if they asked me to.

September 20, 2011
By: marc h. (CROOKSTON, MN)
Heidi and Frank are kliped to my shirt (Ipod) befor I go out, always. I would be lost without them. entertainment at its best. Go for the whole year so you don't miss a thing. keep on keepin on!! Marc.

September 01, 2011
By: Analog (SANTA MONICA, CA)
I can't survive without my Heidi & Frank (and Smeeze) fix everyday.

April 21, 2011
By: Yo-Jo (OAKLAND, CA)
Your life is unfulfilled without it

February 02, 2011
By: Diane K. (SANTA ANA, CA)
Worth every penny!!!!
Read More